MASTER THE ADOBE COMMERCIAL WORKSPACE
LEARN TO MANAGE HAIR WITH ADVANCED MASKING WORKFLOW
Did you know most photographers only use about 20% of the Photoshop Workspace? Don't be held back by what you already know and learn (almost) every tool within Adobe Photoshop with high-end, commercial retoucher, Sef McCullough. Adobe Photoshop is the world's best imaging and graphic design software for photographers and retouchers. This tutorial is designed to be the ultimate reference guide for anybody who wants to learn Photoshop. Get started by learning the layout of the workspace then follow along as Sef walks through and thoroughly demonstrates each tool in the toolbar. He'll give you suggestions on when to use each tool, when to avoid a tool, and provide little known tips and tricks to make your retouching projects easier.
LOOK FORWARD TO RETOUCHING WITH THIS WORKFLOW
Even expert retouchers have something to learn from this Photoshop tutorial! Expand your understanding of destructive versus non-destructive post production workflows and learn best practices plus shortcuts for using every Adobe Photoshop tool and applying them to your projects.
This tutorial uses Adobe Photoshop CC 2019 20.0.4.
Isn't it time to take the guesswork out of your workflow? Learn how to use Photoshop with The Essential Photoshop Tools Tutorial from PRO EDU.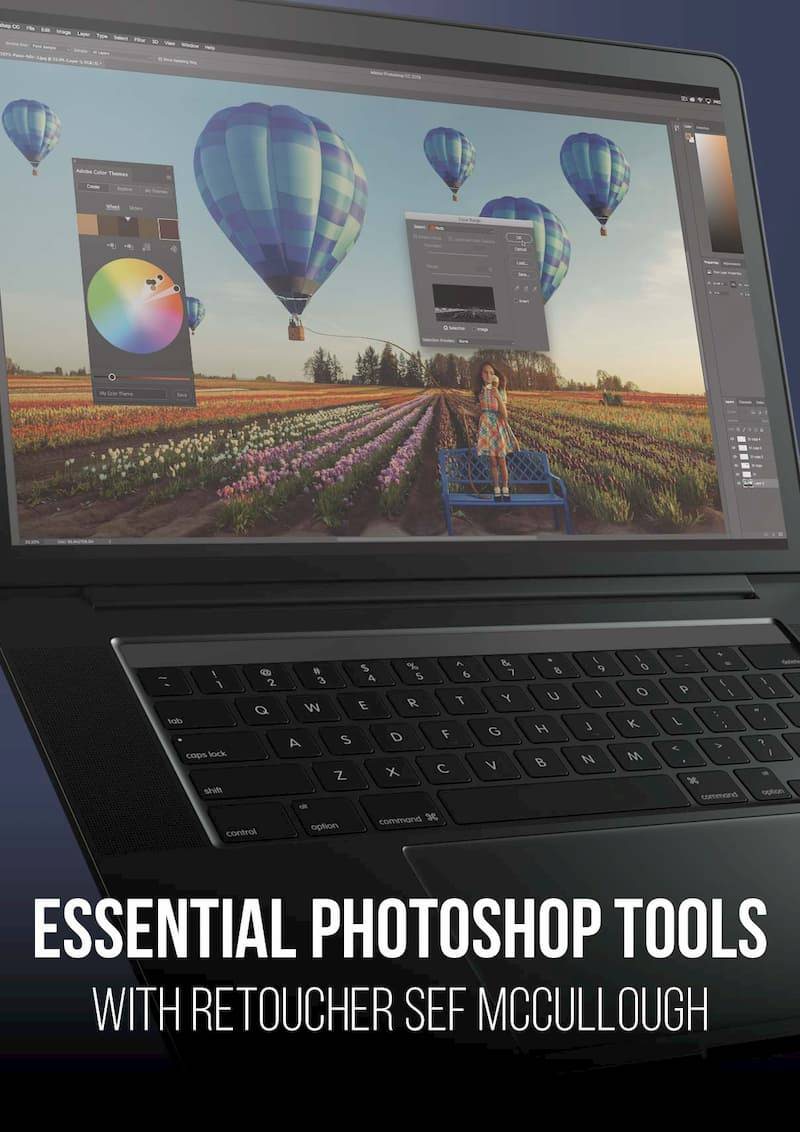 START WITH THE FUNDAMENTALS
"It's harder to unlearn bad habits than it is to learn industry best practices," is what Sef McCullough teaches incoming junior editors. From day 1 he preaches that the absolute fundamentals to a bulletproof workflow is built upon the basic tools, and a specific way to approach them.
INCLUDED IN THIS COURSE DOWNLOAD
SPANISH SUBTITLES Included
Private Access To The Group
MEET YOUR INSTRUCTOR
After completing this tutorial you will know all of the fundamental tools used by commercial retouchers and will be ready to begin Sef's first class on Commercial Retouching Workflow. When you spend less time retouching while achieving better results, your business will prosper.
For over 10 years, Sef McCullough has produced high-end retouching for global brands like Nike, Coca-Cola, and Under Armour. His work has been featured on the world's largest billboards, top publications, and high-traffic digital spaces. He has mentored retouchers, designers, and photographers wanting to break into the field of retouching. To his credit, those artists now make a pretty nice living. Sef often collaborates to develop new workflows, and is passionate about teaching and making the commercial retouching process accessible.