COMMERCIAL RETOUCHING WORKFLOW
Pt 1 WITH SEF MCCULLOUGH
THE INDUSTRY STANDARD FOR RETOUCHING
A TUTORIAL THAT CAN CHANGE AN ENTIRE STUDIO'S WORKFLOW
Sef McCullough shares the post-production workflow which has made him one of the world's leading high-end retouchers. Sef reveals for the first time his bullet-proof approach and advanced techniques to change the way you retouch product photography. This tutorial will improve your skills and give you the understanding of how to deliver high-end commercial images to your clients.
High-end commercial retouchers often keep their methods and workflow as a well-guarded secret in order to stay ahead of the competition. Sef McCullough is on the leading edge of commercial retouching with his mastery of Photoshop. As one of the world's most sought after digital artists, Sef's workflow has been taught to only a handful of his peers.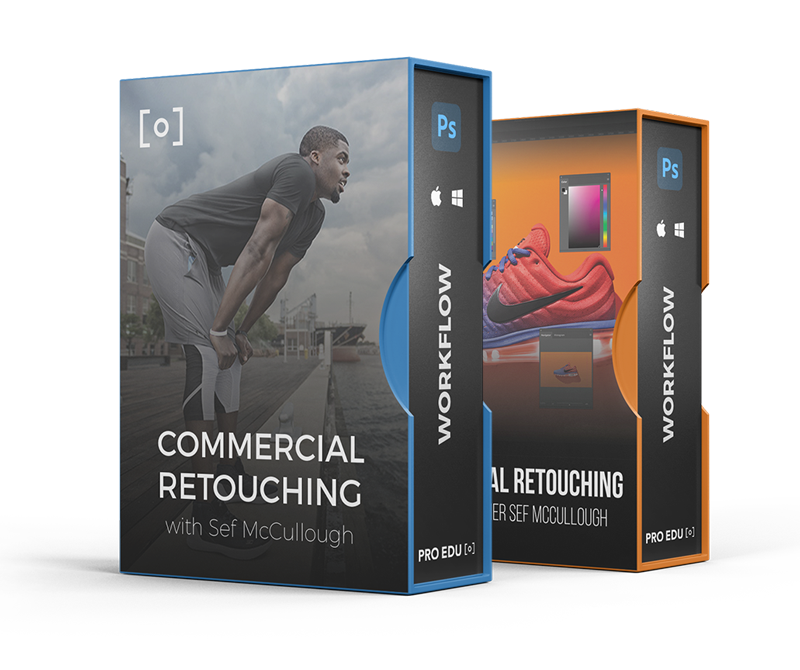 Sef has partnered with us to bring you his photography retouching workflow and an in-depth look at many of his techniques in this incredible tutorial, "Commercial Retouching Advanced Workflow." If you are wanting to learn advanced post-production techniques combined with a bullet proof Photoshop retouching workflow, this tutorial will be your game changer. We combine both a product shoot and a lifestyle shoot to prove to you that an advanced commercial workflow can be applied to any image and the subject matter doesn't actually matter.
INCLUDED IN THIS COURSE DOWNLOAD
DOWNLOAD + STREAM FOR LIFE
SPANISH SUBTITLES Included
Photoshop
LEARN FROM SEF MCCULLOUGH
WELCOME TO YOUR NEW APPROACH TO COMMERCIAL WORKFLOW
Welcome to Commercial Retouching with retoucher, Sef McCullough. To begin this training series, hear first hand how Sef entered the industry of high end commercial retouching. As the evolution of software and technology progressed, hear Sef's pursuit of higher level retouching, working with some of the world's largest, most visible brands. At the core of his process, learn what drives him to create in a demanding, ever evolving commercial world.
We designed this tutorial to reflect a real life job. A remote client with high expectations and a short deadline to perform. Join high end retoucher, Sef McCullough and photographer, Adam Levy, in a real world creative brief. Listen as Sef works to establish the intention, motivation and ultimate direction for a creative campaign featuring the Nike Air Max athletic shoe. Learn not just the definition of a creative brief but how to interact with a photographer's vision and process, to establish a creative road map for high end commercial retouching. You will see what critique there is from a remote photographer, and Sef's real time feedback and execution as they work through the finest details to complete the assignment. Not only do you get to see the execution of the shoe, but also Sef's retouching color shift workflow to create multiple variations for the client with one image.
For over 10 years, Sef McCullough has produced high-end retouching for global brands like Nike, Coca-Cola, and Under Armour. His work has been featured on the world's largest billboards, top publications, and high-traffic digital spaces. He has mentored retouchers, designers, and photographers wanting to break into the field of retouching. To his credit, those artists now make a pretty nice living. Sef often collaborates to develop new workflows, and is passionate about teaching and making the commercial retouching process accessible.