Kierra Castle
BnB Bootcamp for Beginners: Masterclass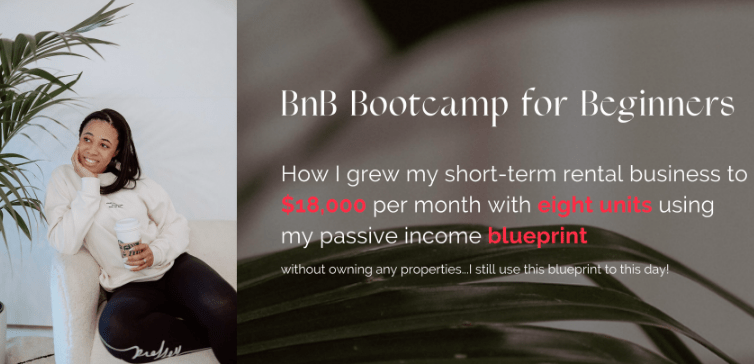 How to Create the Perfect Pitch – Learn how to carefully craft the perfect pitch to sell your rental arbitrage business plan to your landlord and get the "yes"
How I Secured 9 Units in a Month – Get a glimpse on the strategy I use to efficiently scale up my units – plus, you will see how I use this formula to create an extra $2,000+ per month with less than 6 hours per week!
How to Connect w/ the Person in Charge – Steal my unit magnet method that doesn't require me to make any calls after I've secured my first unit – plus how to identify the person in charge to get more units
Module 1 – The Basics​
AirBnB as a whole
Short-Term Rentals
Gig Economy
Avenues to Start
Module 2 – Business & Legal​
VIP Business Docs
Business Formation
Doing Business As (DBA)
EIN
DUNS Number
Business Branding
Business Plan
VIP Business Accounts
Renter's Insurance
Module 3 – Credit​
Creditors
Consumer vs. Business Credit
Credit Bureaus
Data Furnishers
Credit Report
Personal Guarantee
Net Accounts
Trade Lines vs. Credit Lines
Lending Requirements
Business Credit Score
Credit Repair
Business Credit Tiers
Credit & Your BnB
Module 4 – How to Get the "Yes"​
Psychology of Sales
Laws and Regulations
AirDNA
Lead Gen Document
Steps to Calling (aka the "Script")
Methods to Find Properties
The Cold Calls & Warm Welcomes
"Yes" Questions
Objections
What to Look for in Units
What NOT to say on calls
Addenda & Contracts
Module 5 – System Secrets​
Cost-to-Investment Analysis
Start-Up Costs
Move-In Essentials
Recurring Bills
Success Team
Furnishing & Finds
Psychology Hacks
BnB Must Haves
Renting Furniture
Module 6 – Design for Dollars​
5-Step Design Formula
Google Design Leads
5-Star Designs
Funding Options
Shopping Secrets
Module 7a – DRAPED Listing​
Mandatory Lease Signing Steps
My DRAPED Listing Framework
Description & Title
Ratings & Reviews
Amenities
Profile & Photos
Experiences
Dynamic Pricing
Publish
Calendar Settings
Terms & Conditions
BnB Glitches
Module 7b – Your Listing​
AirBnB Host Account
Mock Listing
Photo Order
Base Price vs. Smart Pricing
Polishing your Listing
Glitches
Module 8 – Messaging System​
5-Step, 5-Star Messaging System
For Booked Reservations
For Check-In Message
For Checking on Guests
For Checkout Message
How to Set Up Automated Messaging
Meet Kierra Castle | AirBnB Superhost Consultant, and Coach
We had the good fortune of connecting with Kierra Castle and we've shared our conversation below.
Hi Kierra, is there something that you feel is most responsible for your success?
My team. It has to be my team. Acknowledging that it wasn't just me is so important. I have a pretty large team that helps me run this empire. And there are still some days where I'm like "I need more help" because there is always room to grow. There's always something to do. It's possible to be successful by yourself, but there's just something amazing about not having to worry about the small tasks that take up a lot of your time, you know?


Can you give our readers an introduction to your business? Maybe you can share a bit about what you do and what sets you apart from others?
Another great question. When I hear questions like this, I feel like they force us to be grateful for how far we've come and be present in the moment by being grateful for what we have.
Business was not always easy, but it's always been worth it for me. It FORCES you to think harder. It forces you to work harder. It forces you to be better than you were yesterday.
I've learned that you must be patient with yourself. I know there's a lot of information on the internet talking about how to manifest big amounts of money. The truth is, you can manifest any amount of money as long as you start small. Trying to go from making $0 to $3,000,000 in one day is possible, but there will be some challenges.
For example, have you ever made that much money before? Do you have a CPA that can help you figure out tax strategies if you earn this amount of money? Do you have a team that can help you grow this money? Do you know the procedures and processes of depositing that kind of money in the bank? Is it even allowed? Is it the smartest decision?
There are so many questions. If your end goal is to replace your income at your 9 to 5 or even just make large sums of money, then start small.
Figure out how to replace your $45 monthly phone bill every month. Once you do this consistently, then figure out how you can replace your electricity bill. Then so on and so on.
This, in my opinion, is the fastest way to success (or the ideal of success everyone aims for).
This is what has built me and my brand. I started small, then made my way up and I hope other entrepreneurs use me as the example of where they want to be and do the same.


If you had a friend visiting you, what are some of the local spots you'd want to take them around to?
I looveeee this question just as much as I loved the last!
Hmm, for me, I am a very simple person. Here's what that daily schedule would look like:
6:30AM – Wake up, get ready meditate
8:00AM – Head to the Memorial Park here in Houston for a nature walk along the amazing, nature trails
9:00AM – Have breakfast (my fave meal of the day) at the coolest breakfast spot in town — that being Snooze, the AM eatery and testing out their secret menu item, the Cinnamon Roll Pancake
10:30AM – Head to the Museum of Fine Arts Houston + all the amaaazinnnggg museums in the museum district
1:30PM – Prep for an afternoon at the Post Oak Hotel Spa along with a massage (my fave place ever)
4:30PM – Have some of the best chocolate + vanilla Macarons at the Bouchee Patisserie downstairs at the Post Oak Hotel
5:00PM – Get dressed in an amazing dinner fit from Zara and head into the city for dinner
6:30PM – Dinner at Velvet Taco — 1 chicken and waffle taco, 1 buffalo chicken taco, no blue cheese, 1 cup of elote corn + velvet-colored tortilla chips on the side
8:00PM – Head to one of the best places to view the (free) skyline views at the Houston Post + grab a dessert downstairs at one of the cool stands


The Shoutout series is all about recognizing that our success and where we are in life is at least somewhat thanks to the efforts, support, mentorship, love and encouragement of others. So is there someone that you want to dedicate your shoutout to?
Ooooh I absolutely LOVE this question! And I don't know where to start. If I were to choose one outside source that has truly made me who I am today, it would be the VYBO channel on YouTube. I know my answer may not be conventional, but let me tell you why.
Before I got to where I am today, I feel like I didn't have a vision nor did I have guidance. When I found this youtube channel, it gave me both. The channel has multiple compilations of motivational videos + action-oriented videos.
There's one video in specific (which I also force my clients to watch) called "The Money Mindset". In the video, the speaker talks about a plethora of money mindset secrets and hacks but the one that stands out most to me is making sure you provide value. Give give give without expecting anything in return and you'll receive. It's so powerful.
Website: www.forthehost.com
Instagram: www.instagram.com/coachforthehost
Linkedin: www.linkedin.com/in/kierracastleberry
Youtube: https://www.youtube.com/c/KierraCastleYT
Image Credits
Frida Sophia Photography